Vauxhall
British brand since 1903
With the first models rolling off the production line in 1903, Vauxhall have since had a continuous manufacturing history in Great Britain.
We have three core brand values:
Ingenious. Brilliant mobility.
Progressive. Forward-thinking and innovative.
Approachable. Authentic and simple.
These values guide how we think and act, and how we do business.
Our cars and vans are inspired by our customers, and we believe quality is a right, not a privilege.
It's just one of the reasons we remain close to the needs of today's Britain.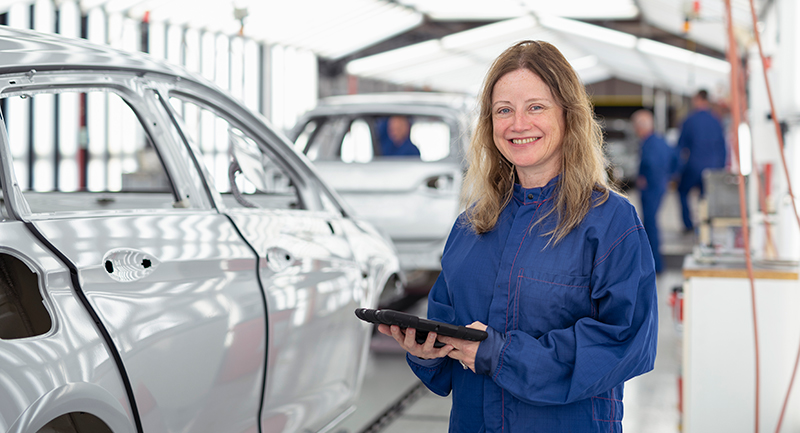 Diane
Paint Unit Manager
What's your biggest achievement with the Company?
The biggest achievement was the successful launch of the new Astra, which won European car of the year in 2016. We delivered the car at the highest quality level ever for an Opel Vauxhall product. I also believe the changes and the reduction in cost per car that we at Ellesmere Port achieved since joining the companies merging have been phenomenal. It demonstrates a team that wants to win and assure the future of the plant.
What drives you?
It's the people around me and opportunities for all of us to grow. I've seen, first hand, people dream up innovative ways to keep lines running and produce great cars, despite obstacles. They've proven time and again that as a team we can do anything if we set our minds to it. From my first day, I wasn't afraid to ask the people who work on the production line for advice to solve problems in plant. These colleagues know the jobs best, and are most likely to come up with working solutions. We just need to give them a chance to contribute. I really appreciate people who want to work hard and care about making a difference. Witnessing it here motivates me, further pushing me to do my job to the best of my ability.
What makes you stay with the company?
I have a passion for the automotive industry, and want to make sure we retain manufacture in the UK. I believe Stellantis – and Vauxhall particularly – can make this happen. I've always enjoyed the highs and lows of such a dynamic industry. Stellantis are leading the way with innovation and business leadership turning round struggling companies to make them profitable. The attention to detail at all levels is what drives the focus. I enjoy the challenges we face every day, especially when we succeed in conquering them.